As many of you are aware, Governor Little has issued a 21 day Stay-At-Home Order on March 25. Under this order, the sale, lease and service of a vehicle falls under the category as an essential business. All 6 Bronco Motors Family of Dealerships and Service Centers are open so that we can serve other essential employees who need to travel to perform their duties.
Your safety as well as our employees are our top priority. Coronavirus (COVID-19) is a complicated and fluid situation, and we continue to modify our processes to the highest standards for your protection and our employees'. We are monitoring closely information being provided by the Centers for Disease Control and Prevention (CDC) and U.S. Department of State and public health officials on the latest developments.
Providing information on the steps we are taking is a critical step in giving you peace of mind that Bronco Motors Family of Dealerships is known for in the Treasure Valley. Here's what we're doing to ensure your safety with us:
Vehicles on Display
Our cleaning practices are meeting or exceeding all CDC guidelines. We have a strong, structured cleaning regimen nightly and daily. Our vehicles are cleaned and sanitized at key touchpoints with an EPA and CDC approved disinfectant.

Please know that each vehicle before you demo or take delivery of it will receive a clean and sanitized sticker once it goes through our rigorous cleaning regimen.

We're provisioning hand sanitizer and sanitizing wipes for everyone including employees and customers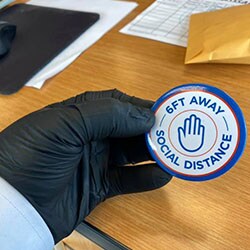 Dealership and Service Centers
Bronco Motors is working closely to maintain a safe, clean environment for our customers and employees. Every employee is required to wear medical grade disposable gloves, maintain 6 ft of separation, wash hands regularly and more. This also includes our own extensive protocol for cleaning customer and employee areas throughout the Dealership and Service Centers ongoing throughout the day.

We've designed our own cleaning procedures at the dealership and service centers. This includes a more thorough cleaning of all hard surfaces, door handles and furniture, disabling drinking fountains (we will have water bottles for everyone), switching out pens and more.

Sanitizing wipes and hand sanitizing stations are available for customers and employees in key locations throughout the Dealership and Service Centers.

Right now we are enacting "social distancing" in daily interactions (abstaining from handshaking and other forms of physical greetings and keeping a 6 ft distance between one another).
You can still buy a car from us online
    1. Bronco Motors Sales Consultants are available to answer any questions you may have. Call us 208-935-6920 or email us at bmsalesmanagers@broncomotors.com.
    2. If you're ready to purchase or lease a car, we can do 90% of the transaction online, and you can pick up your clean and sanitized new car on your schedule.
    3. We've got plenty of online tools to help you make your car buying decision easier.



  If you're less worried about your credit, skip pre-qualification and go directly to apply for credit
    4. Bronco Motors is offering up to 120 days deferred payments and job loss protection on the purchase of a new Nissan, Hyundai, INFINITI and Mitsubishi.
    5. All in person demo drives will be self-demos until further notice. Our sales consultants are happy to provide you a virtual walk-around as well.
Schedule Service
    1.  All 5 of our Bronco Motors Service Centers are open to perform important service work and recalls to help essential employees perform their jobs.
    2. Valet Service - During this unprecedented time, we are offering Valet Service at no cost to you for the service or purchase of a vehicle from any of our 6 Treasure Valley Bronco Motors locations.
For purchase of a new or pre-owned vehicle, Bronco Motors Valet Service will deliver the clean and sanitized vehicle to you within a 20 mile radius of the Bronco Motors Dealership you purchased from and final destination.

For recalls or service of vehicle totaling a minimum of $75, Bronco Motors Valet Service will pick up and deliver from your business or home within a 20 mile radius of the dealership, perform the service work and return the clean and sanitized car back to you.
    3. 
When performing service, we will be installing seat covers and steering wheel covers on your vehicle. In addition, we can perform a complimentary sterilization service on your vehicle during the courtesy wash.
Bronco Motors continues to strive to improve your service or car buying experience. We're in this together. Thank you and we hope to see you soon.
Sincerely,

Grant Petersen, Jr.
CEO & President
Bronco Motors Family of Dealerships